The China International (Beijing) automatic door electric door Exhibition in 2016
Mar. 04, 2016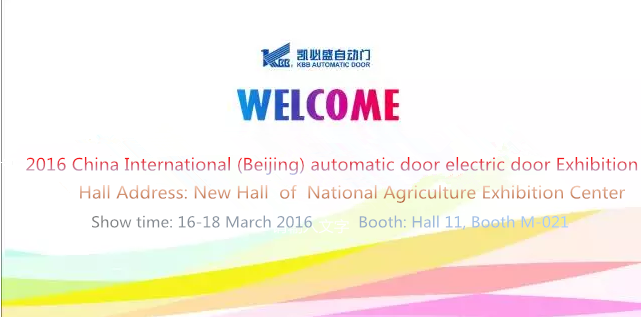 March 16, 2016, the China International Exhibition automatic electric doors Beijing Agricultural Exhibition will be officially opened the new museum curtain. Then, automatic doors leading domestic enterprises – Beijing KBB International Co., Ltd. will carry a variety of classic extravaganza.
The booth design in blue and white tone, the overall shape dynamic atmosphere and will cleverly combine KBB logo with sparkling diamonds door bold design lines, revolving door sleek and powerful surfaces, the perfect combination of design and function, guests can experience the product the user-friendly feature set, artistic sense of style, safety and intelligent functionality. I believe in the KBB, every product display area have become a gathering place for people.
As the world's leading solution providers of building entrances, KBB has become a recognized brand in Asia which is first automatic door. Up to now, KBB sales network has extended to more than 70 countries on five continents and regions.
March 16-18, KBB automatic goalkeeper bring its series star product, forward-looking research, development and innovation, and the ultimate pursuit of perfect quality, at the Beijing International Auto Show with you the same doors, doorways shared feast!
Welcome to the community and the media to visit the exhibition site guidance!
Show time: 16-18 March 2016
Booth: Hall 11, Booth M-021
Hall Address: New Hall of National Agricultural Exhibition Center