6 big advantages of KA230- three / four-wing revolving door
May. 04, 2016
As we all know, KBB only did one thing these years, that is automatic revolving door. We launched a new wing gate turnstile -- KA230- three / four-wing revolving door. Here are 6 big advantages of it.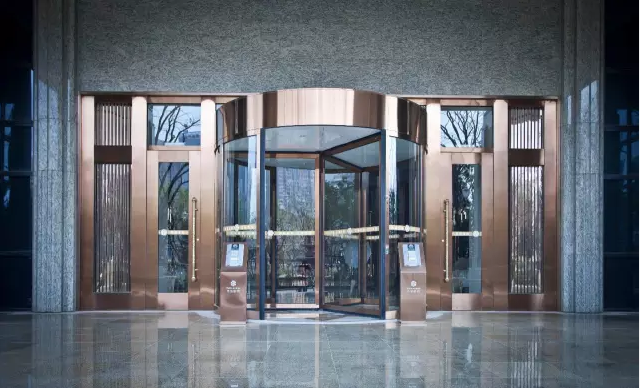 1. The main function.
Advanced control system: PLC programmable controller and international popular AC frequency conversion technology, automatic doors to improve the operating performance, its rich features designed to extend the service life.
Unique double reduction system: The system uses a belt drive deceleration + double reduction gear, give full play to the belt drive stable performance, low noise, gear torque advantage, and formed a complementary advantages of the two transmission mode.
The brush seal system: the application of static equilibrium theory allows automatic door seal and brush the dust resistance better.
2. Security features
Certainly
Vertical safety switches, force-sensitive anti-pinch function, functional disability, fire alarm function and stop function.
Optional
Emergency opening, anti-pinch sensors, collision avoidance systems tomb light and night security doors
3. Energy saving and environmental protection
Multiple sealed design and scientific mode of operation, not only cut off the gas exchange inside and outside, but can have energy savings of 10 percent than the average automatic revolving door. It is estimated that a KBB three / four-wing revolving door save electricity equivalent to the cost of buying this door in 3 years.
4. The manual revolving door
1) Such door type without electricity, weather restrictions, and practical.
2) After equipped with unique speed control device by KBB greatly improved safety performance.
3) Manual revolving door has good insulation, dust-proof function, together with its high cost, so it is widely used.
4) According to customer needs, can be upgraded at any time to manually revolving door automatic revolving door
5. Anti-trailing automatic doors
Ensure that a card had only through one person, the other will be locked in a closed space. Security door alerts, and the door will back to the beginning.
6. Surface Treatment
1) Anodizing
2) Spraying
3) Stainless steel package decoration
4) Package decoration